Endemism and protected species on the shores of Cabo Pulmo.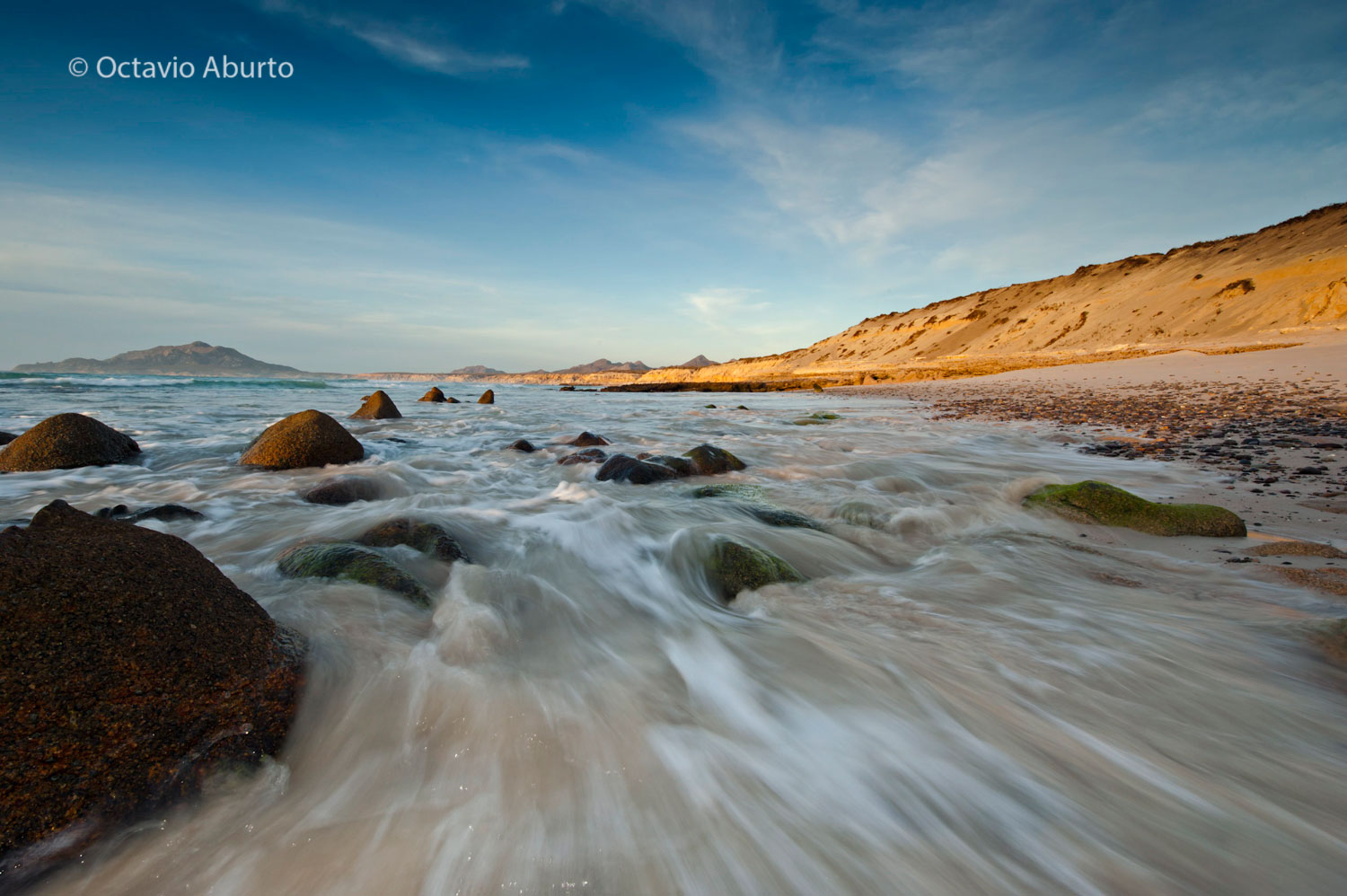 Cabo Pulmo National Park conserves an amazing diversity of marine creatures, yet the arid lands adjacent to these waters host an intriguing community of desert species that are outside of any protected area. Plans to build a mega-resort on these shores prompted a series of questions: What species are found here? How many of the plants and animals are unique to this region? How many are rare and in need of protection? How many are already protected by federal law? To answer these questions, a group of 21 scientists from 11 institutions with regional expertise in the biodiversity of the Baja California peninsula headed to the shores of Cabo Pulmo to document the biodiversity of the land adjacent to the National Park (1).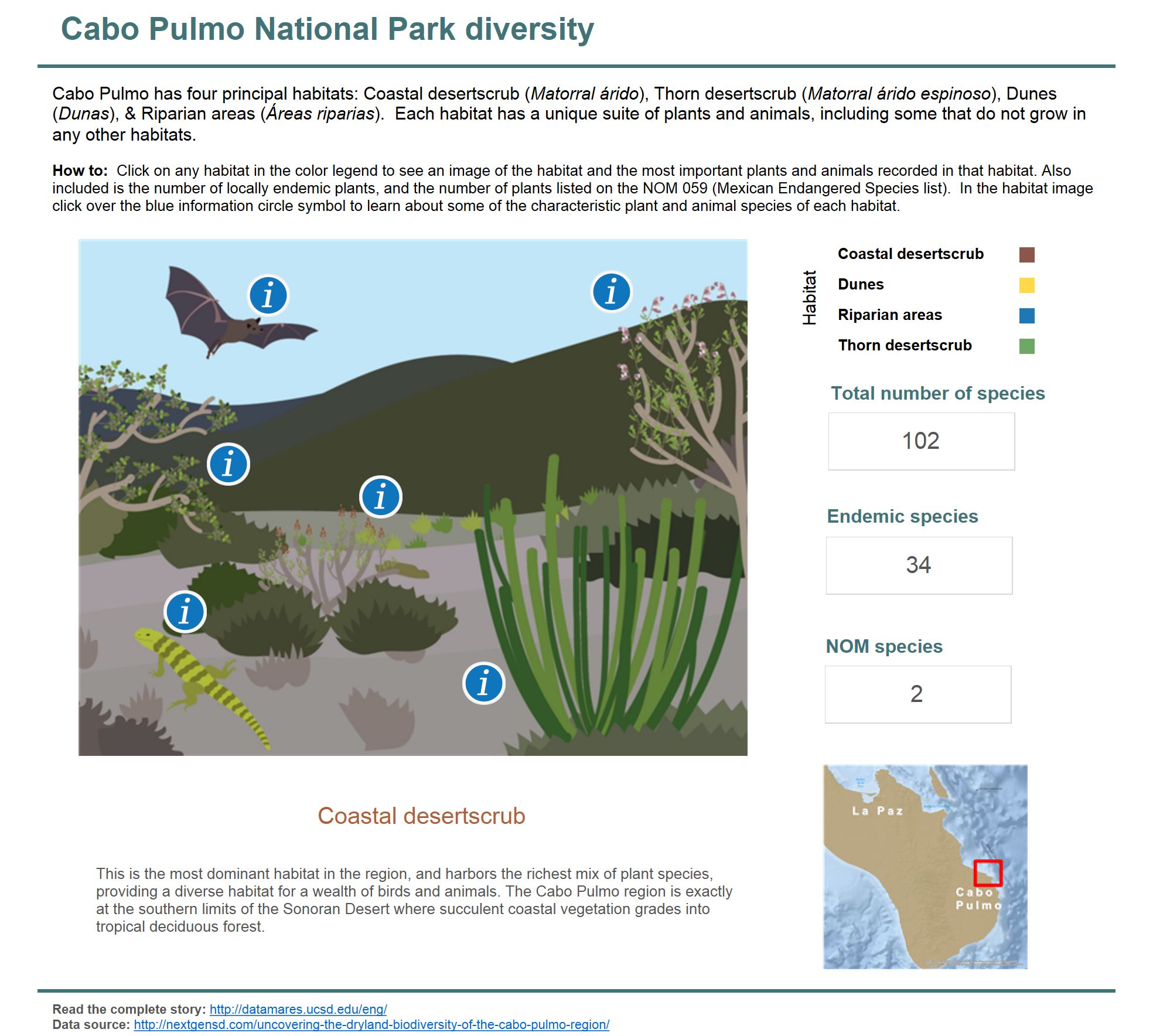 The Cabo Pulmo region is at the edge of the tropics, where succulent coastal desert vegetation grades into tropical deciduous forest that supports rich communities of birds, mammals, plants, reptiles, and insects. Areas of climatic transition are known to often harbor heightened diversity and rarity (2). Many species warrant protection, and conservation planning in the region at large should be careful to identify unique habitats and species prior to disturbance. Researchers compiled historical lists of plants and animals known from the region, documented in books and museum collections, and then worked to record every plant and animal they saw, collecting specimens if a species was not previously documented. These specimens are preserved in museums and universities to provide a permanent record and prove the identities of the plants and animals discovered.
Major findings:
Researchers found that the 6,000 hectares (14,600 acres) surrounding Cabo Pulmo, especially Punta Arena, maintain critical and unique habitats for diverse communities of plants and animals. They documented a wealth of biodiversity, with a total of 568 taxa from the Cabo Pulmo region, including 401 plants*, 44 mammals, 28* reptiles, and 95 birds.
Forty-one species (31 animals and six plants) are listed in the NOM 059 – the Mexican Endangered Species Act. The team also identified hundreds of plants and animals endemic to Mexico. One hundred plants and animals recorded in Cabo Pulmo are known only from the Cape Region of Baja California Sur. While many of these species may not be imminently endangered, they are certainly priority species for conservation because of their limited range. Two plants encountered are only known from but a few square kilometers in the heart of the area proposed for the mega-resort.
Cabo Pulmo's Bidens (Bidens cabopulmensis; Asteraceae3) is a plant only found on the sand dunes of Punta Arena and extending along the adjacent beach and dune systems, yet it is very abundant there. In contrast, Pisonia calafia, Nyctaginaceae (4) is only known from 40 and 50 individuals, all of which are on the edge of seasonal lagoons. Also, they have separate males and female plants, reducing its effective population size by half. This must be one of the rarest plants in the Sonoran Desert, yet it has no formal protection.
* Indicates that numbers vary slightly from those in the report (1) due to updated botanical and herpetological research and nomenclatural changes.
Authors:
Dr. Sula Vanderplank †,¥ and Dr. Benjamin T. Wilder ‡,¥
Contact Information:
DOI:
10.13022/M3DW2T
Affiliations:
† Botanical Research Institute of Texas, TX, USA; ‡ University of Arizona, AZ, USA; ¥ Next Generation Sonoran Desert Researchers
Acknowledgements:
Exequiel Ezcurra, Juan Castro, Judith Castro, Paulina Godoy, Martin Goebel, Paula Ezcurra, Alfredo Girón Nava, Octavio Aburto-Oropeza, Catalina Lopez-Sagastegui.
How to cite this story:
Sula Vanderplank and Benjamin T. Wilder (2016): Endemism and protected species on the shores of Cabo Pulmo. DataMares. InteractiveResource. http://dx.doi.org/10.13022/M3DW2T
References


Vanderplank, S.E., B.T. Wilder & E. Ezcurra. 2014. Descubriendo la biodiversidad terrestre en la región de Cabo Pulmo / Uncovering the Dryland Biodiversity of the Cabo Pulmo region. Botanical Research Institute of Texas, Next Generation Sonoran Desert Researchers, and UC MEXUS. USA. 107 p.


Vanderplank, S.E., Moreira-Muñoz, A., Hobohm, C., Pils, G., Noroozi, J., Clark, R., Barker, N.P., Yang, W., Huang, J., Ma, K., Tang, C.Q., Werger, M.J.A., Ohsawa, M., Yang, Y. 2014. Endemism in Mainland Regions—Case Studies. In: Hobohm, C. (Ed.). Endemism in Vascular Plants. Springer, New York. Pp. 206–218.


León de la Luz, J.L., y A. Medel-Narváez. 2013. A new species of Bidens (Asteraceae: Coreopsidae)
from Baja California Sur, Mexico. Acta Botánica Mexicana 103:119–126.


León de la Luz, J.L., y R.L. Levin. 2012. Pisonia calafia (Nyctaginaceae) species nova from the
Baja California Peninsula, Mexico. Acta Botánica Mexicana 101:83–93.